Professional Learning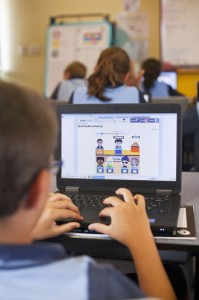 In 2013 the school personnel undertook a range of professional learning activities related to improving student outcomes. These included:
Student Protection
Copyright
OnTrack Reporting
NAPLAN Analysis
AC Geography
AC Geography Planning Days
Differentiating for Students with Special Needs
Circle Solutions
Literacy Coaching
Special Needs Conference (Melbourne)
Students with Disabilities Conference
QCEC Indigenous Conference
New Leaders Professional Development
Stephanie Alexander Kitchen Garden Training
Kids Matter
Cerebral Palsy League – Physiotherapy Training
RE Curriculum Planning Day
Shared Services
Learning and Teaching
A focus on the improvement of student achievement in literacy has been evident in 2013 at St Anthony's, linked to the Federal Government's Literacy and Numeracy National Partnerships initiative. The Literacy Enrichment Teacher (LET) improves the quality of instruction and therefore literacy outcomes for our students by stimulating robust, innovative literacy learning at our school and facilitating strategically reflective literary practices.
In 2013 St Anthony's placed a large emphasis on consistency in planning, investing considerable time and financial resources to improve the standard of planning and delivery of the curriculum across the school. The benefits of this project will be seen from 2014 onwards.